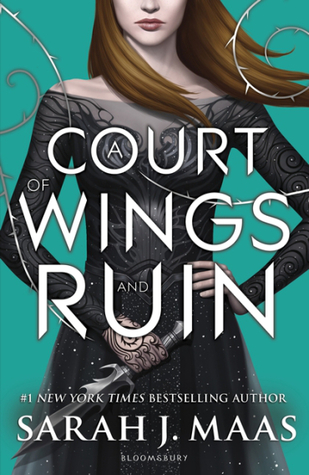 This review is long past due guys! I read ACOWAR in the week it was released but I only now got to write a review about it.
 4/5 Ribbons for the last installment in a trilogy full of unexpected twists and turns!
I was extremely excited to read ACOWAR and I was looking forward to this book since I read ACOMAF. I really loved the second book of Maas' series but I tried not to expect too much because I didn't want to not like the book because I expected too much. And I'm glad I did because ACOWAR was not fast-paced, which was fine by me, even though I did wonder sometimes why a certain scene/chapter was important for the overall plot. As usually, Maas did not disappoint.
There were many facets, twists and turns for us as readers but also for the characters as really nobody knew everything about what was happening at the time in the book. That was something that was not only refreshing but also gave the book a certain mystery nobody seemed to be able to untangle until the very last moment. And even the last chapters left many questions unanswered.
As I already said, I though that the plot was well-layered and there were many incidents where I though 'Aw why didn't I see this coming?' Or this and that was a great move on this character's part and the book described almost all scenes in great detail, except for the ending. This is actually why I 'only' gave 4 Ribbons. I won't spoiler you guys, but I want to say this: as detailed as the rest of the book was, the ending felt EXTREMELY rushed and I was left me really unsatisfied and I only didn't make me feel miserable because Maas already said she would write some spin-off stories and I really hope that there will be some of my favourite couples like Cassian and Nesta but also that she will answer some of the unanswered questions I had after reading ACOWAR.
Looking behind, I really liked the second part the best and I think there was a lot more potential in the third book. But I can really recommend ACOWAR, especially if you have read the rest of the series 😉
SPOILER PART
I really can't understand why Rhys had to die only to be revived. He should have just gotten some 'strength' of the other High Fea and it the whole scene would have been a lot more elegant I think. And also, why did he have to 'pull' Amren back? I mean, it's nice that she lived but, similarly to Ida, I feel like her moment of glory has been taken from her because she wasn't "allowed " to die. What do you think?