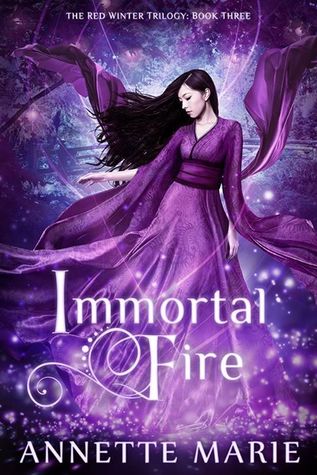 4.5/5 Ribbons
Oh, Immortal Fire… ❤ ❤ (Initial Rating: 4.5 Stars)
This is the third part of the Red Winter Series by Annette Marie. I am a huge fan and that's why I am really sad that couldn't give five stars 😦 You can find the first book Red Winter, following the link above. This is a link the review of the second book, Dark Tempest.
But first, I want to tell you why I love this epic ending of a fantastic series. First of all: the characters. I just love how Shiro, Yumei and Emi evolve in the last part of the series and what we get to know about them. Emi really grew up nad started taking on even more responsibility, and to believe in er own strength and ability instead of relying solely on the strength the two yokai provide.
We got to know new characters and old friends helped them in their fight against Izanami and Izanagi who wish to destroy humankind. It was intriguing to read about the past of Yumei and his life before he met Emi and Shiro. There were a few romantic scenes but not as many as in the last book, which I was fine with because I enjoyed the action, fighting ans scheming a lot 😉
Nonetheless, there were lots of sad or emotional scenes and some of them really made me cry (!) which doesn't happen very often- big plus here! The writing style was, as always, awesome. The words just flew from the page directly into my heart and don't want to leave the place. I loved the world building in the first two books and Immortal Fire certainly didn't disappoint here either!
The only thing I really didn't enjoy so much was that it felt like they had many little tasks to be solved, which is fine usually. But it was really hard to follow sometimes because they finished one task and then suddenly, the reader gets to know that there is some other object, spell or myth that might or might not help them save the world and it was just exhausting at some point. Don't get me wrong, I enjoyed this book immensely, but I wish there would have been more hints at the beginning of the story instead of just different revelations popping up (almost randomly) after each accomplished task/fight.
This did not lessen my extremely positive reading experience but it didn't sit well with me to just ignore it and give the book five ribbons.
A short note: If you don't want spoilers, don't read!
I really loved the ending and I was crying when I read the last page but I wish there would have been more interaction between Shiro and Emi and I also wish it wasn't so sad because dang it! It wasn't a bad ending even if I would have liked the book to end differently. I definitely want to read more about yokai! ❤
*I received this book from the author in exchange for an honest review.